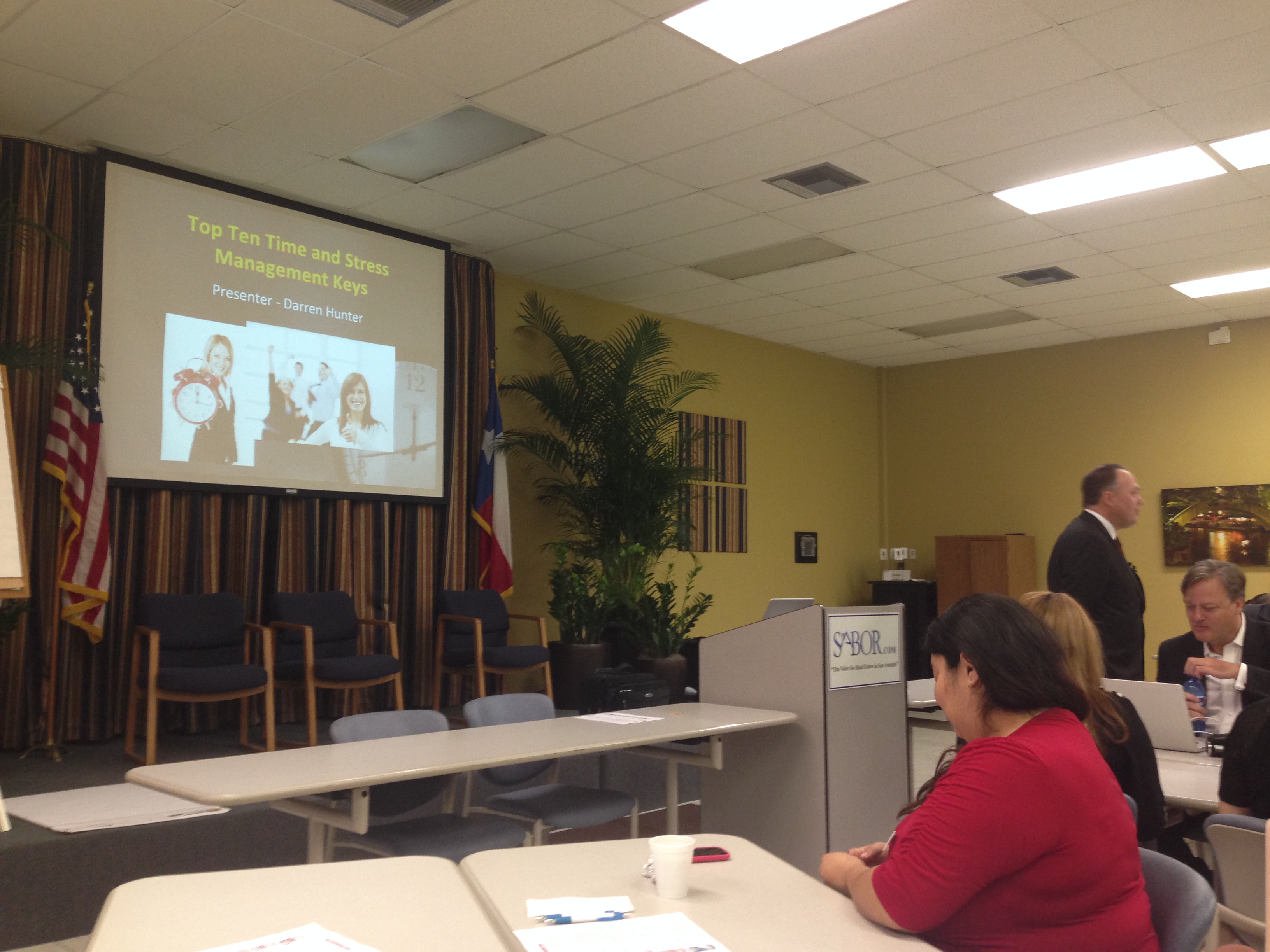 San Antonio Property Mangers Get International Education


San Antonio Property Managers welcomed Darren Hunter and Todd Breen to speak about the Top Ten Time & Stress Management Keys.

Todd Breen is a successful and experienced Property Manager from Florida who owns Home Sales & Property Management. He has become a speaker and instructor on helping make Property Managers more successful with their business.
Darren Hunter shares the same credentials as Todd, but came to us from Australia. He is a full-time
Property Management Trainer and Speaker
– helping Property Managers better themselves personally and their business.
Here are some notes we want to share to help you become better at Time & Stress Management, no matter who you are or what you do!
Stress levels are directly related to how "In-Control" you are with correct task management
Top 3 Time Management Skills – 1) Make a Daily List – start day with a plan. 2) Prioritize List – number your tasks in order. Urgent & most important FIRST! 3) Focus – focus on one task until it is done before moving on to next. Focus gives accuracy & thoroughness.
Have an appointment culture
Have strict "Time Out" that your team must support
Feeling overwhelmed – write everything down, break tasks down to manageable slices, and go to a place to remove distractions.
I personally can speak for each of the items above. As a Professional San Antonio Property Manager, I deal with stress everyday…you do to in your job. I had to teach myself to make a list everyday to clear my head. I have to coach my clients and customers that I live an appointment based day – emailing and texting is better as I might be busy doing another task at a certain time. I also allow downtime throughout the day to relax and reset my brain so I can complete my next tasks to the best of my ability without distractions. Have you done any of the above to make your life better?
Great speakers or Authors to listen/read for time management help:
Brian Tracy
Eat That Frog
Time Power
Time Management Made Simple
Miracle of Self Discipline


John Maxwell
Using Time or Abusing Time
Virtually Incredible – Todd Breen
www.virtuallyincredible.com
Todd showed us the benefits of using video to do property tours and move-in/move-out condition reports. Benefits of using video:
Cuts showings in half – people can view a property online instead of spending physical time at the property – HUGE time management saver
Documents the property condition – upload video to YouTube and share with clients to explain why funds are needed for repairs.
"Everyone wants success, however very few are willing to 'pay the cost' to actually be successful!"
We took away some great points from this seminar. Any that stand out to you?